7 Essential Media Interview Tips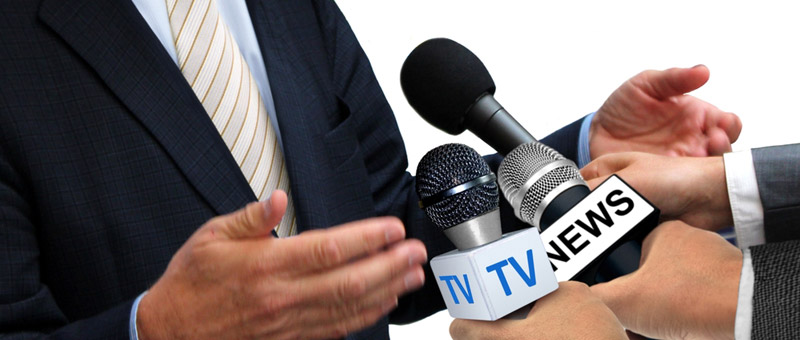 January 5, 2016
It's the time of year for New Year's resolutions. Many of us typically re-resolve to exercise regularly, eat healthier or be more organized. I'd like to suggest another resolution. Why not make this the year you improve your interview skills?
Media interviews are not easy. If you want to shine in the media spotlight, there are strategies and skills to learn and practice. Consider the following tips.
1. Prepare in advance.
Take the time to prepare strong, clear, concise key messages. They are the most important tools in your media interview toolbox. If you use them effectively, they will help you retain more control.
Also prepare examples and anecdotes to make your interview more interesting. You should have different versions and lengths to adapt to the type of interview. One size does not fit all.
Plan and practice quotes. You don't want to be taken out of context and then have to complain… "I never said that!" or "That's not what I meant!" Analyze your quotes and break them down in different ways to be sure they can't be used against you.
2. Understand the format.
There are real differences between interviews for print and broadcast media and those done in person or at a distance via satellite and Skype. Do you have the luxury of time to tell stories or should you give them the highlight package? Prepare for the specific format.
Think too about the length of your interview. Don't leave it to the reporter to edit you. Don't give them that much power. It's far better to edit yourself.
3. Practice, practice, practice.
Few people can wing a media interview. You need to practice out loud. The answers you come up with in your head are always great, but it's the ones that come out of your mouth you need to worry about.
The more you practice, the more comfortable you'll be with the material. If you're comfortable, you'll sound more authoritative. You'll also sound less scripted.
4. Lose the jargon.
If you insist on using jargon, you will lose your audience. It's that simple. Some people cling to their jargon because they don't want their peers to think less of them. They don't want to "dumb down" what they have to say. I dislike that term. And, I don't think anyone will fault you if you're able to clearly articulate your points so that they're accessible to everyone.
People want to understand what you're saying. Pretend you're talking to your neighbour, your mother or the average grade ten student and always aim for clarity.
5. Don't repeat negatives.
Reporters can be very tricky. They can bait you with words they'd like you to repeat because they would make for racier headlines or sound bytes. Do you really want to say that your efforts were "futile", that your statement was "exaggerated" or that your organization was "negligent"? No, I didn't think so.
So be careful not to fall into a trap. Negative words and phrases can be used against you. You should also never say "no comment'. It will only make you look as though you're hiding something or lying.
6. There's no such thing as the "right" question.
Don't rely on the interviewer. They may never ask the question that matches the answer you prepared. You need to set the agenda.
If you simply focus on answering the questions, you may miss your opportunity to convey the messages and information that are important to you.
---
Did I say 7 Tips? Well, the 7th is probably the most important.
7. Media training is a smart investment.
Hire a media trainer who will guide you through the process and help ensure your success. Every time you open your mouth to speak to the media, you take a risk. Isn't it time you invested in your reputation?
---